October 6, 2008
Leaving for Home - Day 4
We got up early once again.... our goal for the day was to make it to Lethbridge, Alberta, about 800km away.
We left North Dakota behind of the slightly rolling hills and windy state of Montana. Look to the left... look to the right.... golden fields... golden fields.... and the odd oil pumping station.
The wind this day was blustery! I had to keep both hands on the wheel at all times because you just never knew when the next unexpected gust of prairie wind would come.
The hills were gorgeous! Golden grasses whipped around by the wind and the odd field of cows. We even managed to see some wild deer in a field. They don't look like the deer in Ontario. They have more dark patches to them.
We passed through some large cities based in the valleys of the rounded hills. Spencer noticed the trains passing by.
We made it to the little town of Shelby and turned due North to reach the Canadian border only miles away. We made it safely across the border in Sweet Grass and proceeded on to Lethbridge for the night.
We had made a reservation at the Ramada in Lethbridge the night before so we knew exactly where we needed to go.
And to our surprise, Todd met us at the hotel about 45mins after arriving!!! What a wonderful surprise!!!
We ended up leaving for home that evening. We made arranges for Mom to go the the Lethbridge airport to fly to Calgary and then back home the next morning.
We said our rather short but tearful goodbyes to my Mom and we followed Todd home to BC.
The ride home to the Rocky Mountains was amazing!! The sun was just about to drop behind them as we came to the BC border. The clouds literally were hung up on the tops of the mountains as the sun set and the darkness of evening set in within minutes.
We zipped up, zipped down, rolling though the mountains to go home. The view was spectacular! The photos I took while driving just don't even do the place it's true justice!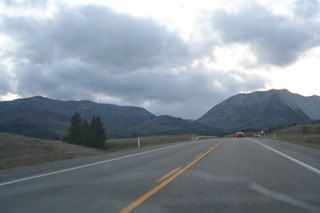 We rolled into Sparwood at 7:30pm. Home at last!!!!