October 5, 2008
Leaving for Home - Day 3
We left Bemidji, Minnesota quite early the next morning.
In speaking to Todd each night he kind of warned us where we needed to make our stops. The time between major centers was growing and finding a place was sometimes quite a chore.
The land began to get quite flat, the trees came to a minimum and only along fence lines and around houses and farms. We began to enter the last bit of Minnesota where we came upon weird looking fields. Then we started to notice the odd brown and tan, hairy "rocks" on the shoulders of the highways.... they were TURNIPS!! Fields and fields packed full of turnip greens as far as the eye could see!
We left the turnip fields behind and entered North Dakota at Grand Forks. What a neat town! We stopped at McDonald's for mid morning snack and off we went to watch more golden fields pass us by.
Our aim for that days driving was to get almost all the way across North Dakota and stay in the last major city before leaving the state, Williston, ND.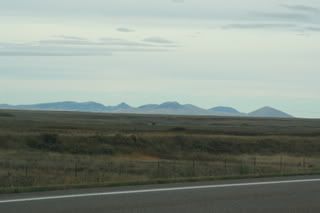 We pressed on and made it to Williston in great time. Finding a place to stay for the night was not as easy as we had hoped. We had to go to 2 different places before we found a hotel next to the Walmart. Apparently, the city was having a "Meatball Convention" and the town "was booked"!!! I'm NOT kidding!!!!! LOL!!
Lesson of the Day:
McDonald's is the best stop with a 3 year old. Quick and easy meals and you get the same thing in EVERY store you go!!!