October 4, 2008
Leaving for Home - Day 2
We left St. Ignace, Michigan quite early Friday morning. We stopped at a scenic spot stop just leaving the area and took some pictures of the rising sun against the lit Mackinaw Bridge. A gorgeous site indeed!
We progressed steadily across the upper peninsula of Michigan, gradually climbing a little more Northerly and a start on the Westerly direction towards BC.
We made a few odd stops along the way... stopping to take bathroom breaks and just to stretch our legs.
Lesson of the Day:
Rest stops in Michigan are pretty good places to stop!!
We stopped at a rest stop just before Munising, out in the middle of nowhere and it was clean and well lit and had a view of the wild surrounds. Quite an enjoyable stop.
We made our way across the rest of Michigan, into Wisconsin and into the Superior/Duluth area at the very tip of lake Superior.
We had just drove through Superior, across the tip of Lake Superior to Duluth, Minnesota and Mom and spied a cool little park. So we stopped. We managed to pick a cute little park perched on the edge of the lake with PLAY GROUND EQUIPMENT!! Yes.... Spencer got out of the car and Mom and I couldn't hold him back!!! Up the ramp and onto the large ship shaped equipment he went. We had a great time taking pictures and "wearing Spencer out". He just needed to get out and RUN his little buns off! We enjoyed the warm sun and he enjoyed climbing up and down the slides!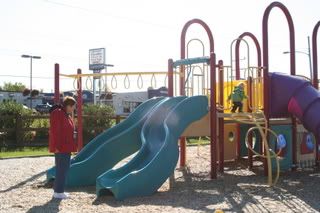 Off we went again..... our goal that night was to reach to Bemidji, Minnesota. We did eventually make it that night as we drove in to Bemidji at night. I believe we drove just about 900km that day to reach our destination.
We stayed in a nice Best Western while there just off the highway we needed to be on in the morning.