October 9, 2008
We had an opportunity to drop by our local community center on Thursday. It contains a swimming pool, kiddy wading pool, a hot tub, a kids climbing area, 2 racquet ball courts, a rock climbing wall, a huge weight room, a cardio room, a curling rink, an ice skating rink and a few meeting rooms. It's a wonderful place, especially when you are in an area surrounded with nothing but mountains and forest! And it's only 5 mins away!!!!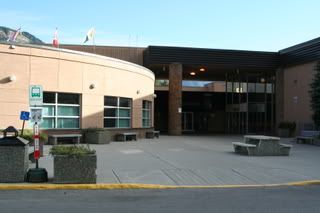 We gathered all the information we could find about the programs, schedules and activities there. They have all kinds of kids programs (some are FREE), drop in meetings for parents, day care facilities and lots more. As part of our active living benefit through Todd's work, we can claim memberships for the community center and get up to claim a certain amount of the money back. It's a great incentive program to get involved and get fit too! For a start, we are going to get the one month family pass to use and see how much we use it.
Spencer thoroughly enjoyed the room FILLED with balls!!! It has this huge circular window for people watch from the outside and he was enjoying jumping from the top of the stairs into the mass of plastic balls.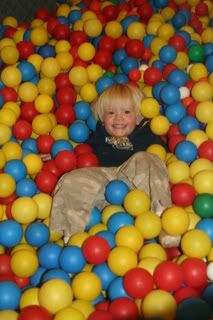 October 10, 2008
Every Friday here, the Community Center holds a meet the parents time in the morning. They have a huge meeting room above the ice rink that contains a huge closet of cool toys for all ages and they get out mats and lots of different toys for the kids to play with while the parents sit and talk. They also provide coffee, tea, drinks for the kids and muffins.
So Spencer and I decided to try out the event and went. Spencer spent 90% of the time riding one of the two bikes all around. He would typically be racing another child on the other bike. He also played on the mini slide, in the mini ball pit and with the doll house too.
I chatted with all the other Moms and got to know a little bit more about the area.
Facts of Interest:
- Here in this area (not sure if this is all of BC or not), the kids get EVERY OTHER Friday off of school!!! They also get 2.5 weeks off for Christmas and 2 weeks off for March break. HOLY MOLY!!! Most of the mines also follow the "every other Friday off" rule for their employees so people don't have to find day care for those days. Weird eh???
- Kids don't start school here until they are 5!!! Darn it....
- We have a BUS! Yep... you can literally get picked up here in Sparwood and take a bus to either Elkford or Fernie (depending on the time of day). It basically does two circles of the areas with 2 rest periods and a lunch period.
- All the employees of the Fording River mine get bussed to work. If you live in Elkford, the bus comes right to your door to pick you up for work!! Very cool! Since we live in Sparwood, Todd drives to Elkford to the mine parking lot, gets picke dup by a bus for work and then gets bussed to the mine site (26km from the parking lot).